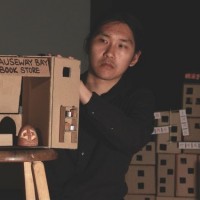 Discipline: Theatre
Specialties:  Puppetry, Mask, Mime
Region: Halifax
Languages: English, Cantonese, Mandarin
Chun Shing Au (Roland) is the artistic director and co-founder of Theatre du Poulet, an award- winning theatre company based in Nova Scotia. Since graduating with honours from The Hong Kong Academy for Performing Arts in 2012, Roland has performed in over 20 productions as an actor in Hong Kong, Ireland and Canada. As a puppeteer, mask performer, and physical theatre artist, he has undergone extensive training from many international programs: Character Mask and Movement Training by Familie Flöz – The 12th Flöz Summer Academy in Berlin; Puppetry Workshop & Object Theatre by Doc. Mgr. Marek Bečka in Prague; Animotion Puppetry Intensive Program by the Mermaid Theatre of Nova Scotia; and The Poetic Body by Sébastien Brottet-Michel from Théâtre Du Soleil in France. His work with Theatre du Poulet received two awards in 2018 for 'The Best Newcomer Award' at the Halifax Fringe Festival and 'The Theatre Centre's Emerging Artist Award' at the Summerworks Festival in Toronto.