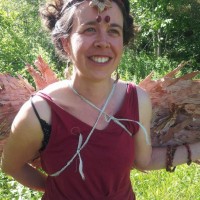 Discipline: Theatre
Specialties: Clown, Improvisation, Collective Creation
Region: Annapolis Valley
Languages: English, French, Spanish
I am a settler of primarily British ancestry living in Mi'kmaki/ rural Wilmot, NS.  I grew up in the west but felt my heart drawn to Latin American over and over starting with a student exchange at the age of seventeen to Mexico.  I lived for periods of time in Costa Rica and Guatemala where I learned to dance merengue, salsa, and cumbia.  I also worked/played with youth through the YMCA during this time and learned a lot about life through kids, our best teachers.  Later, I cultivated my love for latin rhythms through classes with the Barefoot Salsa Collective, a Montreal-Colombian group that combined theatre games, theatre of the oppressed techniques, and a playful approach to salsa and other dances.  I began to teach theatrical salsa classes in 2011 in rural Quebec and have given workshops in Tatamagouche and in the Annapolis Valley.  I have also trained with various theatrical clown and community theatre teachers and am currently an arts-based doctoral candidate in personal development through theatrical clowning and land connection out of Concordia University.  I offer organizational and therapeutic workshops and coaching in Natural Clowning, or child development and connection to our inner child through play and land connection.  I am also a daughter, sister, auntie, niece, gardener, wildcrafter, energy worker, and musician.
J'ai grandi en Alberta et en Colombie Britannique mais j'ai passé trois ans en Amérique latine et sept ans à Montréal. Je ne suis pas francophone mais avec le français je me débrouille. J'ai beaucoup aimé mes séjours au Guatemala et au Costa Rica où j'ai appris à danser la salsa, le merengue, et la cumbia. À Montréal j'ai pris des classes avec le Collectif Salsa Pieds Nus pendant six ans; ils combinent le théâtre, le jeu, el la danse pour une approche animée. J'ai commencé à donner des classes de Salsa Théâtral en 2011 au Québec et j'ai continué à Tatamagouche et en la Vallée Annapolis. Actuellement je suis doctorante en Clown Naturel comme voie de développement personnel et je donne des ateliers sur la connexion avec l'enfant intérieur. Je suis soeur, fille, tante, nièce, jardinière, et musicienne.