ONLY AVAILABLE FEBRUARY 1 – JUNE 27, 2023
Co-produced by Halifax Theatre for Young People and Eastern Front Theatre
This is a prerecorded performance.
Optional livestream Q&A/discussion with the playwright, director and/or lead actor.
#IAmTheCheese is supported and recommended by Halifax Regional Arts.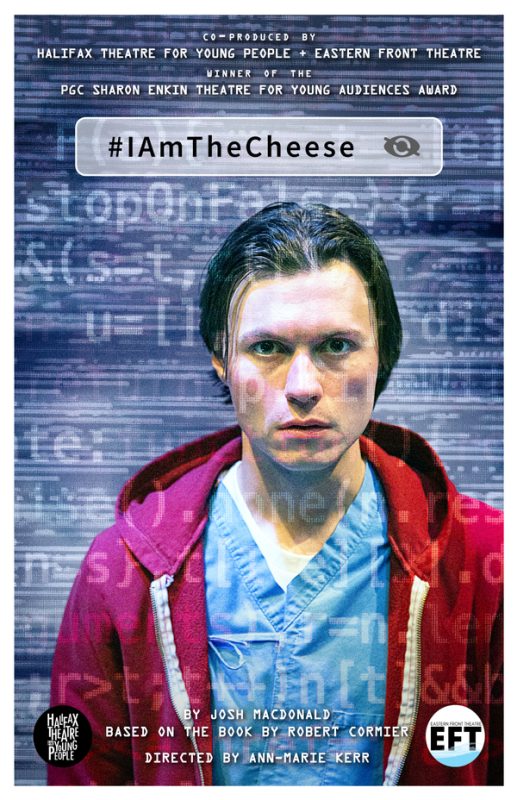 Grade Levels: 8 – 11
Duration: 90 minutes (can be viewed over multiple days/periods)
Cost: $60 per class viewing, or $300 per school.
Optional extra: $100 for livestream Q&A/class discussion with playwright, director and/or lead actor (can be brief Q&A post viewing or a full period scheduled as desired). Multiple classes can participate.
Format: Prerecorded performance with optional livestream Q&As happen with password protected link and Google Meet arrangements for Q&A.
Booking Dates: This is a limited opportunity – ONLY AVAILABLE FEBRUARY 1 – JUNE 27, 2023
Study Guide will be provided upon booking

#IAMTHECHEESE by Josh MacDonald, adapted from the book by Robert Cormier
Directed by: Ann-Marie Kerr
Featuring: Sam Vigneault, Sebastian LaBelle, Susan Stackhouse and Micha Cromwell

Projection & Co-Scenic Designer: Christian Ludwig Hansen
Co-Scenic Designer/Builder: Brenda Duran
Costume Designer: Everette Fournier
Composer & Sound Designer: Jackson Fairfax-Perry
Lighting Designer: Olivia Rankin
Stage Manager: Virg Iredale
Lighting Design Mentor: Leigh Ann Vardy
A digital cyber-thriller especially created to stimulate critical thinking and discussion for Nova Scotia students, Grades 8 – 11!
Taking place in the present-day in Atlantic Canada #IAmTheCheese forces students to delve into a complex cyber-world where nothing is quite as it seems.Written, performed, directed, designed and produced in Nova Scotia, #IAmTheCheese also gives young people the opportunity to explore the idea of working in theatre/film in Nova Scotia.
#IAmTheCheese is a reimagining of Robert Cormier's classic 1977 young adult novel. The play is set in the present day, and follows a traumatized teenager named Adam Farmer through a series of interviews with an analyst named Brint, as Adam struggles to recall deeply repressed memories of his past. Beginning with just a wisp of a children's nursery rhyme—"The Farmer in the Dell"—Adam begins to reassemble his sense of self, bit by bit. Eventually, Adam remembers the social stigma of his preteen years, when his parents inexplicably banned the use of the internet: no cellphones, no computer, no wifi, etc.. But Adam dares to begin a relationship with a girl from his school named Amy Hertz, and this relationship blooms in cyberspace. The more that Adam remembers about Amy, however, and about his own parents, the closer he comes to recognizing that a massive, faceless danger might be surrounding him still… Through exploring the complex and intricate world of growing up in the digital era, #IAmTheCheese is an enriching and reflective thriller for young audiences.
Robert Cormier's suspenseful novel has been a YA staple for decades, and this all-new adaptation by local playwright Josh Macdonald is the winner of a PGC Tom Hendry Prize—The Sharon Enkin Theatre for Young Audiences Award 2020.