by Bill Wood
Part Performance, Part Lecture, Part Workshop, All Fun.
Available as a livestream or in-person performance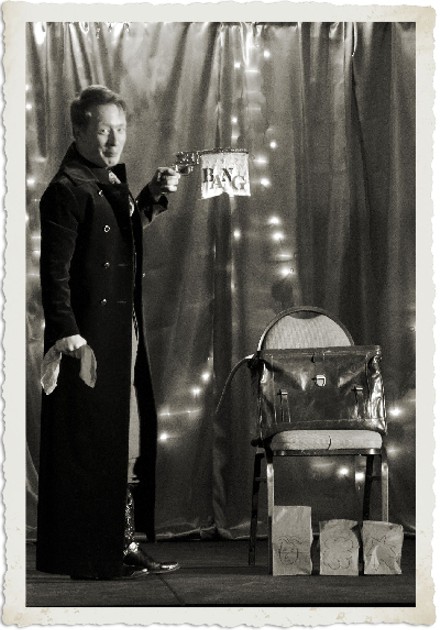 ■     Grade Levels: 3 – 12 (adapted in content according to grade level)
■     Duration: 60 min (but can be made shorter if necessary for class time)
■     Cost: $550 + HST for a virtual performance, unlimited classes participating.
For in person performances, preferred maximum is 60 students per presentation, $350 for one show, $150 for each additional performance.
■     Format: Available in person or as a livestream presentation
■     For livestream performances: students each require 2 coins, washers or poker chips, a pencil, and a few elastic bands.
■     Booking Consideration: Performer is only available for performances on Fridays.
Magic and Mental Health is a 60 minute online educational performance and hands on workshop which introduces students to foundational mental health skills and resiliency training through the art of Magic.
Students will learn about the Fight, Flight and Freeze functions of the human nervous system and its natural role as a response to danger. Fight/Flight/Freeze is helpful when we're being chased by lions but is a bit tricky in the modern world. People often get stuck in one or more of these response zones and can spend long periods of time 'activated' and not feeling safe. Luckily there are tried and true methods for helping out body shift from Fight/Flight/Freeze into a feeling of safety.
This workshop will answer the questions:
– What do I do when I need help
– How can I tell that I should talk to someone about how I'm feeling?
– What can I do for my friends and family if they seem to be having a difficult time?
– Why do human brains work this way?
– What is normal? Is there even a 'Normal'?
In the workshop portion of the presentation students will learn two or three age appropriate magic tricks and be coached towards approaching this moderately challenging activity with resilience and a positive growth mindset.
About the Artist:
Bill Wood is a professional Actor, Magician and Registered Counselling Therapist (candidate) with the Nova Scotia College of Counselling Therapists. He has worked in schools, hospitals and community centres as a therapist and teacher sharing his love of performance and magic and his knowledge of mental health and resiliency theory.
Curriculum Connections: Mental Health Awareness, Performance Art, Psychology.