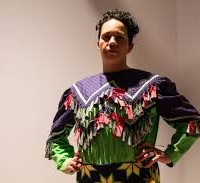 Discipline: Dance
Specialties: Indigenous Dance
Region: Halifax
Languages: English
Pronouns: they/them
Raven Davis is an Anishinaabe (Ojibwe) Aboriginal artist and activist living in Halifax. Davis is a multimedia and mixed media artist, as well as a traditional dancer, singer and drummer.
Raven Davis's lineage stems from the Saulteaux Ojibwe Nation of Manitoba. The paternal heritage includes Scottish and Irish. Having a mother who is also an Ojibwe artist influenced the young Raven in childhood. Davis was raised in Toronto and attended Ryerson University and George Brown College.
The artist is two-spirited and prefers gender-neutral pronouns. Davis speaks at schools and art venues, raising awareness around issues of gender, sexuality, and race.