Presented by Maritime Marionettes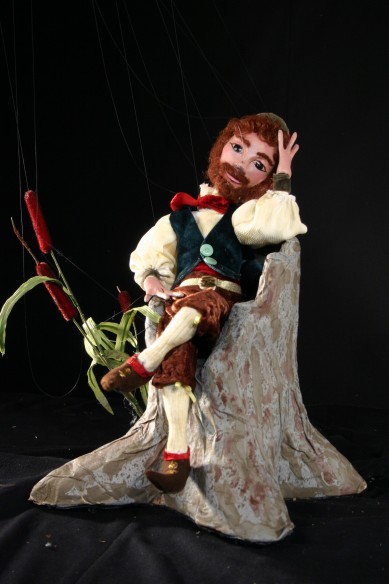 Grade Levels: Appropriate for all ages, recommended for elementary school
Duration: 50 min. with optional question and answer period
Cost: $650 + HST for one show, $1100 + HST for two
Format: Available in person inside in large space
OR
outside with the Maritime Marionettes caravan stage
Booking Dates: Available on request during the school season
Languages: English and French
Study Guide: Leprechaunstudyguide in PDF format
Workshops available by special arrangement:
Introduction to Puppetry for grades 3 and up (1 hr, max 3 per day)
Marionette Making for grades 5 and up (2.5 – 3 hrs, 1 per day)
Please contact coordinator[at]performns.ca for more details.
Story: Darryll Taylor and Heather Taylor
Marionette Design, construction and costume: Heather Taylor and Darryll Taylor
Voices: Jenny Appleby, Emma Smit, Frances Morrison
Project assisted by: Nova Scotia Department of Tourism, Culture and Heritage
The Lonely Leprechaun
When a young girl, named Sally, writes by candle light, her muse magically appears as Sandy, the lonely leprechaun. Sandy desperately needs Sally's help to find his friends, so they can keep the world green.
Where are all the other leprechauns?
As Sally continues to write, her imagination takes flight on a global search. Her journey reveals that the earth is getting too warm and Sandy's friends are nowhere to be seen.
Sally is guided by a goose, an ostrich, two penguins and a parrot, to the missing leprechauns who are cooling the egg of a mother dragon.
Sally learns that helping cool the earth will insure the return of Sandy's friends and she is further rewarded by witnessing the birth of  a baby dragon!