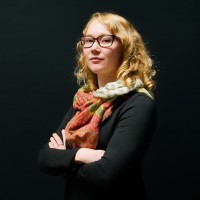 Discipline: Theatre
Specialties:  Acting, Puppetry, Collective Creation
Region: Halifax
Languages: English, French
Franziska Glen is an actor, puppeteer and theatre maker living in Kjipuktuk (Halifax). She is co-artistic director of Gale Force Theatre and performed in their inaugural show Crypthand, for the 2019 Halifax Fringe Festival. After completing three international tours with Mermaid Theatre of Nova Scotia's show The Rainbow Fish, Franziska spent the summer of 2019 at Bread and Puppet as an apprentice puppeteer to their circus and pageant shows. Recently she spent the summer of 2020 developing outdoor shows to be performed during the time of Covid. These include Late Night Radio with the North Barn Theatre Collective and A Tale On Two Wheels with Gale Force Theatre. Franziska also works and creates in French. She is currently developing Satellite Théâtre's newest show and directed Antioche for Théâtre DesAssimlés.