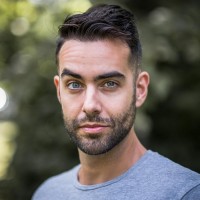 Discipline: Theatre
Specialties: Musical Theatre, Directing, Acting
Region: Halifax
Languages: English, French
Patrick Maubert, from Fredericton NB, completed his undergraduate degree in Musical Theatre Performance from the American Musical and Dramatic Academy of New York City as well as a MA degree in Music Theatre Creative Practice in Directing at the Arts Educational Schools of London.
As a performing artist, Maubert has worked internationally in a range of cross-genre projects from musical to physical theatre. Select international credits include: Me and My Girl, NYC Off-Broadway revival; Cinderella, CBroadway U.S Tour; Wizard of Oz, UK Tour; The Diamond Horseshoe Revue, Tokyo Disneyland; Unforgettable, UK Tour; Chasing the Money, Theatre New Brunswick. For several years Patrick has also been touring internationally as a member of The 12 Tenors.
As a creative practitioner, Maubert was the Associate Artistic Director of Toronto's No Strings Theatre and former Associate Artistic Director of London's A Friend of a Friend Productions. Patrick teaches music and theatre classes across Canada.

Patrick Maubert, de Fredericton NB, a complété son baccalauréat à l'Académie Américaine de musique et d'art dramatique de New York, ainsi qu'une maîtrise en pratique musicale créative du théâtre musical aux Arts Educational Schools de Londres.
Certains crédits internationaux incluent: Me and My Girl, la reprise de NYC Off-Broadway; Cinderella, CBroadway U.S Tour; Magicien d'Oz, UK Tour; La revue Diamond Horseshoe, Tokyo Disneyland; Unforgettable, UK Tour; Chasing the Money, Théâtre Nouveau-Brunswick. Pendant plusieurs années, Patrick a également fait des tournées internationales en tant que membre des 12 tenors.
En tant que praticien créatif, M. Maubert était directeur artistique associé du No Strings Theatre de Toronto et ancien directeur artistique associé des productions londoniennes A Friend of a Friend. Patrick enseigne des cours de musique et de théâtre à travers le Canada.