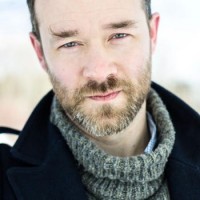 Discipline: Theatre
Specialties: Collective Creation, General Theatre, Improvisation, Musical Theatre
Region: Halifax
Languages: English, German
Born in Halifax, raised in the US and Berlin, Germany, Garry lives and works in Halifax as a theatre artist, teacher and musician. He holds a degree in Music and English from Mt. Allison University, and studied Music and Theatre at Manhattanville College, NY and the Free University (FU) Berlin. He works year-round as an actor, director, singer, songwriter/composer and playwright, whose work has taken him across Canada, and to Europe.
In 2004, Garry founded DaPoPo Theatre and provided artistic direction with associate directors Eric Benson and Kim Parkhill, with productions such as The Sex Play (2006), Sunday in the Park With George (2007), When Did You Last See My Mother?, the original musical revue So… What About Love? (2009), Julius Caesar (2010), and his original play Jesus Is A Faggot (2014). Garry featured Sky Gilbert as part of the annual DaPoPo Live-Festival, as well as Guillermo Verdecchia, DanielMacIvor and HugoDann. In 2013, he co-presented DaPoPo's 'The Drinking Game' in Lethbridge, Alberta for Theatre Outré.
Outside of his work with DaPoPo, Garry has worked with a number of other companies including AngelsAndHeroes?(Fewer Emergencies); the Halifax Summer Opera Workshop (Cosi fan tutte, Le nozze di Figaro, Alcina); Us vs Them (A Tournament of Lies, Litmus Road); and TheatreSpeak (Mimi). He is an ardent supporter of the Playwrights' Atlantic Resource Centre (PARC), and a member of Theatre Nova Scotia.
Garry has worked with the YouthProject, founded and co-facilitated the Queer Youth Ensemble Acting Out! with RichieWilcox and Kym Butler in 2010-2011. He has appeared as part of the QueerActs Festival, and has been delighted to perform in support of NSRAP and Halifax Pride. Garry has become a staple of [[MenzBar|Menz & Mollyz], where he hosts the weekly Sing-Along Show Tunez on Saturday nights; a soirée of (mostly) original songs, A Little Cabaret, with Kristi Anderson and Zach Faye; and the ever-popular Café DaPoPo, and DaPride Café, with DaPoPo Theatre.