Presented by The Doppler Effect Productions
Available as an in-person or livestream performance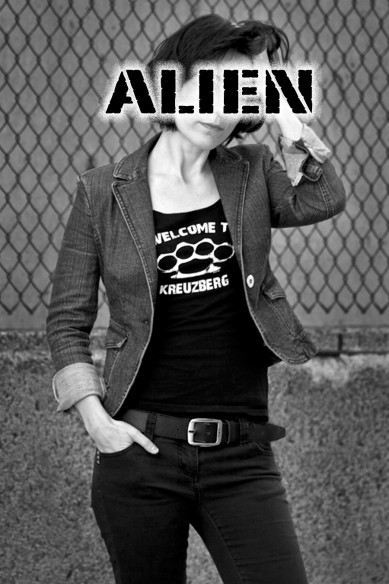 Grade Levels: Appropriate for grades 7 – 12
Duration: 60 min. with optional question and answer period
Cost: In person – $550 for one performances, $900 for two;
livestreamed – $550 per school
Format:

 

Available in person or livestreamed

Booking Dates: Available on request during the school year
Languages: English
Recommended maximum number of students per in person performance: 150
Alien is the compelling true story of one immigrant's lifelong search for "home".
Our journey begins in 1980s Communist[1] Bulgaria[2]. Little Anichka's world is turned upside down when her parents decide to flee the country after the fall of the Berlin Wall[3] – to somewhere strange and unfamiliar called Norway[4]. Grappling with the sudden culture shock[5] here, Anichka becomes obsessed with the idea of "fitting in", and develops a knack for it…That is, until she comes to Canada on a study exchange a decade later, and once again finds herself cast as The Outsider. Sifting through memories, immigration[6] policies, and slippery definitions of self, Annie ("Anichka") Valentina's autobiographical tale is a charming ode to childhood, identity[7] and being different.
Please see footnotes for teaching points.
The production 
Developed with the assistance of Playwright's Atlantic Resource Centre, Alien first premiered as a workshop production in the 2013 Atlantic Fringe Festival. It was the product of collaboration between playwright/performer Annie Valentina and director Margaret Legere. Valentina was awarded Best Actress of the Fringe for her work.
In January 2014, the full-scale version of Alien was presented by The Doppler Effect Productions in a run at the Neptune Scotiabank Studio Theatre (Halifax); and in September 2014, it played at Ship's Company Theatre (Parrsboro) – including several school matinees for youth from around Cumberland County. It has received overwhelmingly positive feedback each time. 
About the playwright/performer
Annie Valentina is a Halifax-based theatre artist with a broad background in playwriting, producing, and acting for stage, film and TV. Her focus is on exploring storytelling through performance and developing vibrant, contemporary works that engage new audiences in fresh and exciting ways. Since 2010, she has been pursuing this goal mainly through the work of her company, The Doppler Effect Productions. She has a keen interest in constantly evolving approaches, skill sets and perspectives on art and society – and for helping others discover their own passions and resources.
To view Annie's full resume click here: annievalentina_perform
Audience responses to Alien
"Valentina tells her story with disarming humour and an appealing candour, even when dealing with deeply personal topics […] It is a stellar and moving performance." – Andrea Nemetz, theatre reviewer (The Chronicle Herald)
"Valentina has a strength in her own vulnerability here. She emanates empowerment, even when she speaks about feeling disenfranchised, rooting the story in one of victory, of triumph and of hope. She also embodies a number of different characters, most vividly her strong, practical Bulgarian mother, who clearly resents deeply what the Soviets have done to her life and her country. This adds perfect colour and texture to the story, helping us to immerse ourselves in Annie's experience." – Amanda Campbell, TWISI theatre blog
"…A gorgeous piece of theatre, so well crafted, both in the form of the writing as well as [the] performance. Touching, heart-rending, humours, and sad. […] It was a privilege to see this show." – Shannon Webb-Campbell, poet and journalist
"…Very, very beautiful. Deeply moving. A critical, heartfelt and personal story of displacement across political lines. Simply told. Beautiful wrought. A great example of bringing the personal to the stage without self-indulgence or posturing." – Stewart Legere, actor and singer/songwriter
"I loved this show. The writing is so intelligent and smart and funny – as is the performance and direction – I think this might be the first time anyone says for a one person show "I could have had another 15 minutes"!" – Michael Best, playwright
"Sometimes a play can make you consider the world from a point of view that you never have before. Annie Valentina's Alien is such a play." – Kate Watson, theatre reviewer (The Coast)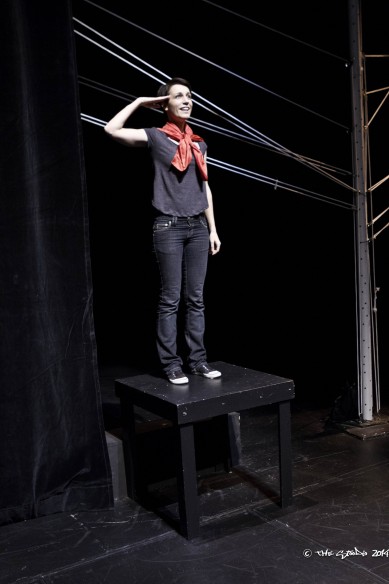 Footnotes:
[1] Communism: political science
[2] Bulgaria / Eastern Europe: European geography
[3]Fall of the Berlin Wall / Revolutions of 1989 / Collapse of the Eastern Bloc: 20th century history
[4] Norway / Scandinavia: European geography
[5]Culture shock: anthropology/social studies
[6]Immigration: political science/social studies
[7]Identity: psychology/social studies