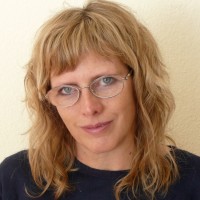 Discipline: Theatre
Specialties: General Theatre, Physical Theatre, Collective Creation
Region: Annapolis Valley
Languages: English
Kathy France is an actress, director, playwright and theatre educator with 33 years of experience in creating and teaching theatre. She brings passion and compassion to her teaching, and loves inspiring her students to discover their gifts of confidence and creativity. Specialties include Shakespeare, improvisation, collective creation, mask work, physical theatre, directing and acting classes, Commedia dell'Arte, puppetry, script analysis and sketch comedy. Kathy has worked with countless teachers over the years, either conducting training in incorporating the Arts into the classroom, or working as part of a team in Integrated Arts. She has taught over 1,000 school-age students in 8 countries. Kathy is the founder and Artistic Director of CaravanTheatre, based in Wolfville (www.caravantheatre.ca). With this company, Kathy toured the world, living in such far-flung places as Thailand, Nepal, Trinidad, Yugoslavia and Syria, creating and teaching theatre wherever she set down roots. She enjoyed exploring traditional theatre arts in foreign lands and incorporates these styles into her own performance projects.
To view Kathy's full resume click here: Kathy France Resume latestadridged-website