Presented by Maritime Marionettes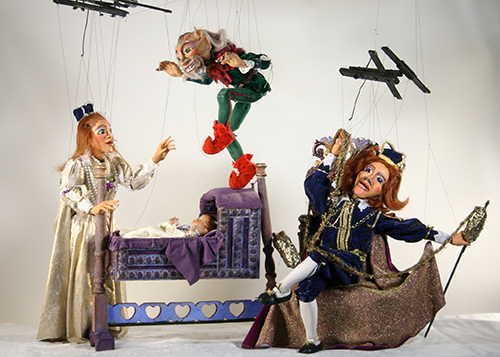 Grade Levels: Appropriate for all ages, recommended for elementary school
Duration: 50 min. with optional question and answer period
Cost: $650 + HST for one show, $1100 + HST for two
Format: In person performances
Booking Dates: Available on request during the school season
Languages: English and French
Workshops available by special arrangement:
Introduction to Puppetry for grades 3 and up (1 hr, max 3 per day)
Marionette Making for grades 5 and up (2.5 – 3 hrs, 1 per day)
Please contact coordinator[at]performns.ca for more details.

Script: Darryll Taylor
Marionette Design: Heather Taylor
Marionette/Prop Builders: Bruce Wood, Heather & Darryll Taylor
Costumes: Robert Doyle
Sound Production: Reeltime Recorders
Voices: Jamie Bradley, Pamela Kinsman, Mike Peterson
Music: Peer Gynt Suite, Grieg: Dans Macabre, Saint-Saen: The Ring, Wagner
Production assisted by the Cultural Affairs Division , Nova Scotia Department of Education
Maritime Marionettes breathes life into an ageless folktale as magically as Rumpelstiltskin spins straw into gold!
Rumpelstiltskin is the tale of a poor miller's daughter who becomes trapped in her father's lie: that she can spin straw into gold. She forms a pact with a strange little man in an attempt to perform the incredible spinning task for the greedy King. To her surprise she becomes Queen and mother to the future ruler of the kingdom.
"Rock him gently when he cries, but do not spoil my little prize", mocks the mysterious little man when he returns to haunt the Queen and her baby. Eager to savour his victory, he gives the Queen three days to guess his name in exchange for her baby. She dispatches her trusted servant, Gabriel, to conduct a desperate search for the correct name. Lost and discouraged, Gabriel is led to a clearing in the woods by a friendly rabbit. There, he sees the little man dancing and chanting his name, Rumpelstiltskin."
The show features seven puppets, with two versions of the miller's daughter-one in plain homespun and the other in her royal garb. The 50 minute performance is filled with colour, magic and excitement; from the appearance of Rumpelstiltskin to his incredible demise. Maritime Marionette's Rumpelstiltskin will take you into a magical world where marionettes become real people, who reconnect you with a belief in other worlds.