Presented by Maritime Marionettes
Available only as a prerecorded presentation
Available in English or French
Livestream post show Q & A available in English or French to accompany prerecorded performances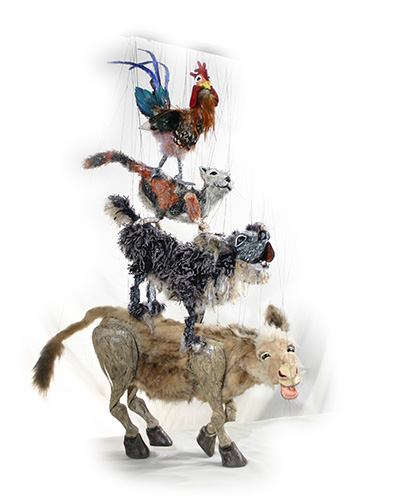 Grade Levels: Appropriate for all ages, recommended for elementary school
Duration: 50 min. with optional question and answer period
Cost:
Prerecorded performances: $50 + HST per class viewing
Livestream Q&A: $150 + HST (multiple classes at one school can join livestream Q&A for the same price)
Format: Prerecorded performance and livestream Q&As happen with password protected link and Google Meet arrangements for Q&A.
Booking Dates: Available on request during the school year
Languages: English or French
Study Guide: Available here in PDF format
Workshops available by special arrangement:
Virtual Rod Puppet Making Workshop
Grade Levels: Grades P to 8, (workshop is adapted for younger grades)
Students make their own puppets – engaging for all ages, all genders – students keep their puppets.
Great for class presentations!
Virtual workshop length 1hour 15 mins.
Materials fee per puppet made: rod puppet $15 (plus tax)
(school provides glue guns, pencils and scissors – shipping costs covered by PERFORM!)
Please contact coordinator[at]performns.ca for more details.

Script: Darryll Taylor
Music: Heather Taylor
Marionette design and costumes: Heather Taylor
Marionette and prop builder: Darryll Taylor
Voice Actor: Lenore Zann
Maritime Marionettes presents the favorite folktale of an aging donkey who follows his dream to become a musician. On the road to Bremen town, he befriends a dog, a cat and a rooster, who like him, are no longer needed as farm animals. Together they form a comical quartet and a bond that will last the rest of their lives.
The visuals of the show are performed with eloquent shadow puppets, exquisitely made marionettes and the Taylor's masterful manipulation. The inspiring soundtrack combines bedtime story style narration, whimsical music and side splitting animal sounds.
From the opening scene to the hilarious and touching ending, this timeless tale of friendship and enthusiasm for life will inspire and entertain the child in us all.